VITALITY with Advanced Session (Erchonia)~FREE Seminar~
September 19 @ 8:00 am

-

September 20 @ 12:15 pm

FREE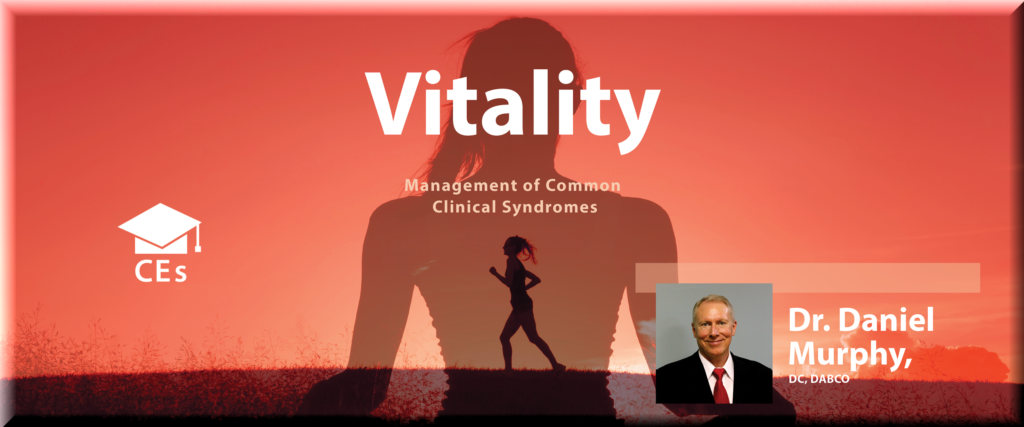 ~FREE Seminar~

Vitality~by Dr. Dan Murphy, DC

Management of Common Clinical Syndromes
Advanced Breakout Session with Jerome Rerucha, DC, BS, CSCS, CHPS

September 19th-20th, 2020 – St. Paul, MN

~12 CEs Applied NWHSU~

About The Seminar
Professor and research expert Dr. Dan Murphy DC, DABCO offers only the highest-level learning courses validated through extensive scientific research and proven techniques he has perfected through not only running his own full-time practice but how he lives his daily life.  He now travels the world to share the expertise he has garnered over the last 40+ years with physicians who desire to take their skills to the next level.  In this NEW 12-hour course, he will educate on structure and function revealed through a poly-therapeutic intervention that will improve clinical outcomes.  Dr. Murphy, DC will explain topics ranging from Chiropractic care, laser therapy, ATP, mitochondrial function, diet, exercise, brain health, low back pain and state-of-the-art technologies that are tailor-made for expert chiropractic care by managing common clinical syndromes.  Dr. Jerome Rerucha will demonstrate many hands-on clinical applications including a 3-hour Advanced Session*.
The knowledge and skills you will acquire during this action-packed 2-day course will change your life, your practice, and your patient's lives!

About Daniel Murphy, DC, DABCO
Daniel Murphy, DC, DABCO has taught over 1,700 twelve-hour postgraduate continuing education classes.  He also serves as part-time undergraduate faculty professor at Life Chiropractic College West, where he is currently teaching classes to seniors in the management of spinal disorders. He is a contributing author to several books and a quarterly columnist in the American Journal of Clinical Chiropractic. From 2003 – 2009, Daniel Murphy, DC, DABCO served as the Vice President of the International Chiropractic Association.  In 2014, he was awarded the Lifetime Achievement Award from the International Association of Functional Neurology and Rehabilitation (IAFNR).

About Jerome Rerucha, DC, BS, CSCS, CHPS
Jerome Rerucha D.C., B.S., C.S.C.S. C.H.P.S.® is a practicing clinician, co-owner of Crossfit Eatonton with his wife, Jennette, and a speaker teaching integration of advanced clinical treatment applications and competitive strength and conditioning principles. Prior to clinical practice he was a full-time strength coach, competed in powerlifting for 14 years and won a Lifetime Drug Free World Title and The Best Lifter Award in 1999. Dr. Rerucha has been involved with numerous Division 1 strength programs. Having the personal competitive lifting experience, coaching numerous types of athletes and elite strength athletes provides additional benefits when teaching his dynamic clinical applications.
                            Seminar Details:

When:
September 19th-20th, 2020

Times:
Registration at 7:30am
Saturday 8am-5:30pm
Sunday 8am-12:15pm

Where:
TBD

Seminar Cost:  $FREE
*Credit card required to hold spot. If attendee no-shows, $50 will be charged to the card on file.


CE Hours:
DC States Applied for:  MN, ND, SD, NE, IA, WI
*Northwestern Health Sciences University (NWHSU) applies for CE Hours to the chiropractic state licensing boards in states surrounding the seminar location. If you need hours for other states, please contact NWHSU before the seminar at 952-885-5446. Certain restrictions apply. *$150 extra for CEs (if needed). Transcripts are sent out by email approximately 2 months after seminar completion. If you need a copy sooner, please contact NWHSU directly at (952) 885-5446.
Click here the St. Paul Brochure.
Seminar Topics:
Clinical Physiology – Integrating infection, evolution, immunity, inflammation, fibrosis, blood flow, mitochondria, ATP, oxidative stress, and DNA.
Chiropractic for All – Integrating mechanical integrity in gravity, weight, load, levers, posture, mechanoreception, mechanotransduction, mechanobiology, tensegrity, neurology, blood flow, and DNA.
Photobiology – Low Level Laser and how it applies to office visit
– Attended/Unattended applications (Jerome Rerucha, DC)
Current Laser Research from the 1960s to Present-Different types of lasers vs LEDs, high vs low power, safety considerations and contraindications
Healthy Diet for All – Integrating high vegetable, low lectin, low glycemic dietary habits.
Discussing problems with refined carbohydrates, monosodium glutamate, aspartame, and chemical toxins.
Exercise for All – Integrating high-intensity interval training, weight lifting, brain-derived neurotrophic factor, human growth hormone, and interleukin-10.
Laser Physiology – Discuss the biphasic nature of laser photon therapy, wavelength, frequency, speed of light, fluence, penetration, secondary and primary physiological influences:  mitochondria, free radicals, ATP, cytochrome c oxidase enzyme, and laser photon therapy
Supplements for All – Review why all people need between 5-8 different supplements and why.
Dr. Murphy's Protocols for:
Gut
Brain
Back Pain
Whiplash
Fibrosis/Scar Protocol
Featured Bonus:
Advanced Breakout Session with Jerome Rerucha, DC
Sat: 1:15PM-4:30PM (Optional):
*Advanced Session Class Requirement:  Erchonia Laser Owner
**Pre-registration Required, Limited Space Available
To view the complete syllabus, click here.
*This seminar qualifies for Erchonia customers for their FREE ERCHONIA SEMINAR with laser purchase.
Every attempt is made to offer these seminars as publicized, however Erchonia Seminars reserves the right to adjust seminar locations, dates, time, speakers, content, etc., due to circumstances beyond control. No audio or video or tape recorders are allowed, and no portion of the seminar may be reproduced in any manner without expressed consent. Preregistration is required. Erchonia Seminars cannot be held responsible for any expenses incurred by registrants if a program must be altered or canceled. The seminar fee is non-refundable. If unable to attend, the seminar fee will be transferred to another seminar. ©2014-2019 Erchonia Corporation. All rights reserved.