Modern Practice: Expand Your Services Through P.I. and Integrative Care (Erchonia)
February 15 @ 8:00 am

-

February 16 @ 12:15 pm

$175
Modern Practice-

Expand Your Services Through P.I. and Integrative Care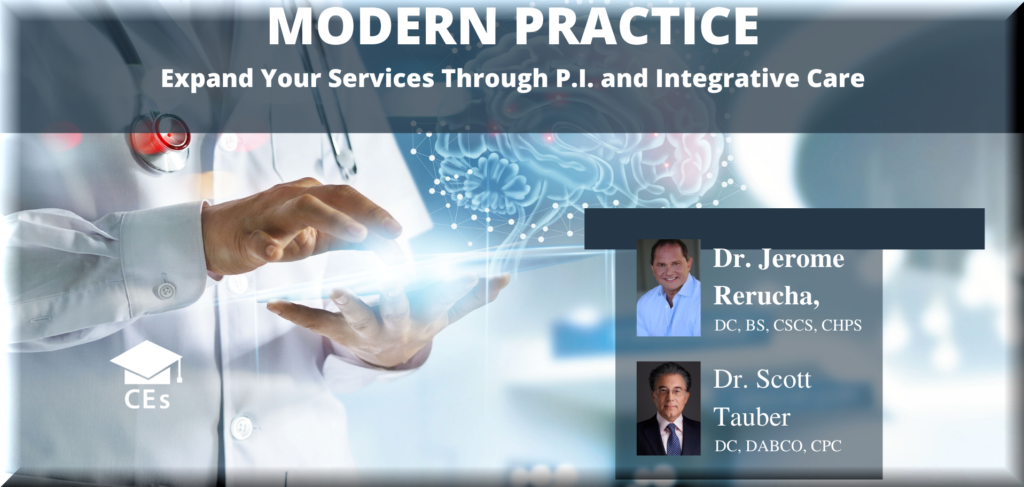 Presented by: Jerome Rerucha, DC, BS, CSCS, CHPS & Scott Tauber, DC

February 15th-16th, 2020 – Colorado Springs, CO
~12 CEs Applied NWHSU 10 General & 2 Documentation~
About The Seminar
Personal Injury can be one of the most complex and confusing areas of practice for many providers. Keeping on top of the current documentation, treatment and management of acute traumatic injuries and understanding the med-legal arena is essential for greater outcomes. Patients are reaching out to providers that can provide this expertise. In this seminar, two experts will present opportunities to you to separate yourself from your competitors and increase your confidence in treating Personal Injury patients.
This is a must-attend laser seminar for laser owners and non-laser owners alike!

About Jerome Rerucha, DC, BS, CSCS, CHPS
Jerome Rerucha D.C., B.S., C.S.C.S. C.H.P.S.® is a practicing clinician, co-owner of Crossfit Eatonton with his wife, Jennette, and a speaker teaching integration of advanced clinical treatment applications and competitive strength and conditioning principles. Prior to clinical practice he was a full-time strength coach, competed in powerlifting for 14 years and won a Lifetime Drug Free World Title and The Best Lifter Award in 1999. Dr. Rerucha has been involved with numerous Division 1 strength programs. Having the personal competitive lifting experience, coaching numerous types of athletes and elite strength athletes provides additional benefits when teaching his dynamic clinical applications.

About Scott Tauber, DC, DABCO, CPC
Scott Tauber, D.C., D.A.B.C.O., C.P.C. is the COO of the American Institute of Personal Injury Physicians. He is a 1984 graduate of Life Chiropractic College and is both a Diplomate of the American Board of Chiropractic Orthopedics (DABCO) and a Certified Professional Coder (CPC). In addition to over 20 years of clinical practice, Dr. Tauber has served as a med-legal expert witness and has been an independent consultant for automobile insurance carriers and state regulatory agencies. He is a frequent guest speaker at professional and med-legal conferences, state association events and professional schools and has been published in state and national journals.

Seminar Details:

When:
February 15th-16th, 2020

Times:
Registration at 7:30am
Saturday 8am-5:30pm
Sunday 8am-12:15pm

Where:
Embassy Suites by Hilton Colorado Springs
7290 Commerce Center Dr.
Colorado Springs, CO  80919
Phone:  (719) 599-9100

Seminar Cost: $175*


CE Hours:
States Applied for:  CO, WY, UT, AZ, NM, NE, KS
*Northwestern Health Sciences University (NWHSU) applies for CE Hours to the chiropractic state licensing boards in states surrounding the seminar location. If you need hours for other states, please contact NWHSU before the seminar at 952-885-5446. Certain restrictions apply. *$75 extra for CEs (if needed). Transcripts are sent out by email approximately 2 months after seminar completion. If you need a copy sooner, please contact NWHSU directly at (952) 885-5446.
Click here the Colorado Springs Brochure.
Seminar Topics:
The hands-on protocol workshops will cover the examination and treatment of:
Neck
Extremities
Shoulder
Scars
Whiplash
Low Back
Lumbar Spine
Cervical Spine
Soft Tissue
Peripheral Nerve Entrapments
Laser Treatment of Acute and Chronic Conditions
Hands-On Laser Workshops & Demonstrations
Recent FDA Cleared Pain Study
Percussion and Soft Tissue Correction
Patient Examination Intro to Low Back Pain
Percussion Workshop
Review Proven, FDA Cleared Plantar Fasciitis/ Chronic Heel Pain Laser Study
Scar tissue and the fibrosis of repair.
The Personal Injury portion will cover how to:
Avoid Common Personal Injury Documentation Mistakes
Specific Case Management in Personal Injury & Rehabilitation
Humanize Your Patients Injuries Easily and Effectively
LLLT as Part of Case Management
MRI, MRA, CT Applications in Personal Injury
Apply the Crucial Elements of Personal Injury Case Management
Begin to Put It All Together for Greater Success
To view the complete syllabus, click here.
*This seminar qualifies for Erchonia customers for their FREE ERCHONIA SEMINAR with laser purchase.
Every attempt is made to offer these seminars as publicized, however Erchonia Seminars reserves the right to adjust seminar locations, dates, time, speakers, content, etc., due to circumstances beyond control. No audio or video or tape recorders are allowed, and no portion of the seminar may be reproduced in any manner without expressed consent. Preregistration is required. Erchonia Seminars cannot be held responsible for any expenses incurred by registrants if a program must be altered or canceled. The seminar fee is non-refundable. If unable to attend, the seminar fee will be transferred to another seminar. ©2014-2019 Erchonia Corporation. All rights reserved.